Trunked Radio Hire
What is 'Trunking'?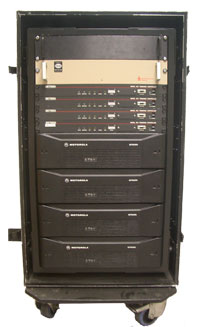 In a Trunked radio system, radios share multiple channels, with queuing and channel assignment being handled dynamically by the trunking equipment. When the radio user calls another party, the trunking controller automatically allocates an available free channel (traffic channel) for the call. MPT1327 Trunking provides a control channel enabling signalling between the mobile and trunked network. This channel is used to send commands and status messages between the mobiles and the network, to set up and clear calls and get access to facilities such as emergency call over-ride, which are provided on the network. A trunked radio system can provide the following features:-

Subscriber validation
Only lets radios access the system if their ESN is on the systems database

Speech Call - Individual
All radios on the system have their own individual ID number, similar to a phone number. If some wants to call you individually they simply punch in your ID number into the keypad of the radio (or select from the contact list) and press the tick/ok button. Your radio will ring and you just answer the call. No other radios on the system will hear that call.

Speech Call - Group
Multiple groups can be set on the system and radios can be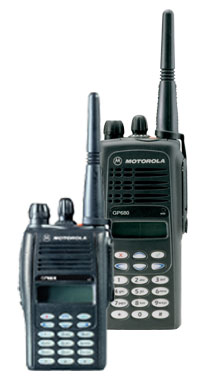 programmed as members of as many groups as you wish. Group calls are made in the same way as individual calls but the receiving radios, programmed to be a member of the group will automatically open up and the call will be heard by all.

Priority Levels
3 priority levels can be set for users, which enables higher priority users to jump up the queue list if the system is busy.

Emergency Override
An emergency group and button can be set up on the system which will automatically make a resource (traffic channel) available, should the system be busy, for the call to go through immediately.

Data Calls
Status messages can be pre-set within the radios to provide users the ability to send messages to individuals instead of making a speech call. All Data calls are sent over the Control Channel thus not using a voice resource.

Telephone Interconnection
The Trunk System provides the ability to connect into a PABX system. An analogue extension is required for the interconnection. Once set up telephone calls can be made from a radio to a telephone extension or PSTN. Calls can also be made from a telephone extension or PSTN to an individual radio.
Why Use Trunking
With a conventional radio system users are split up by using channels. You need to remain on your channel to enable other people to contact you. With trunking each radio is programmed with an individual ID and the groups it belongs to. When a call is made to either your ID or group, your radio will respond.

A typical 4 channel Trunk System
The above diagram shows the architecture of a typical 4-channel trunk system. This includes a Control Channel and 3 traffic channels. Each channel has a trunking controller, which provides the intelligence to the system. On a 4 channel trunk system you have 3 usable resources (channels) for calls, which means 3 independent speech calls can happen at any one time. All the channels are connected to an antenna combining system, which allows the whole system to operate with just one antenna system.