This unique platform is the ideal solution for any small business. The SL1100 makes your team more reachable, more responsive and more productive.
Value for Money
Powerful communications with a small business price tag
Only pay for what you need, with an entirely scalable solution
Lower running costs considerably by making smarter use of your communications
Easy to use
Intuitive features that the whole team can use, without the need for training
Handsets and applications include shortcuts that speed up working processes
Time-saving applications empower your team to become more productive
Lean and Green
Energy efficiency mode, contributing to a healthier environment
Built-in conferencing for a greener approach to business meetings
A range of home working options to help lower fuel emissions
Keep them connected
Use your mobile to stay contactable on your office number, from anywhere
DECT wireless communications from anywhere on the premises for maximum reachability
Never miss a thing, with enhanced voicemail to keep you up to date
Keeping your team in touch
" The Auto-Attendant feature means that callers receive a greeting and are routed to the correct department, ensuring that I only get the calls that are meant for me."
" The wireless DECT handset allows me to stay in touch while moving around the warehouse, making me more responsive. I can even make and receive calls with the HQ free of charge."
" The conference feature allows me to effortlessly set up a virtual meeting for colleagues at short notice, wherever they are. This enables faster business decisions, as well as saving travelling time and expenses."
" I can be on the road and stay contactable on my office number using my mobile phone, meaning that I don't miss an important enquiry."
" The door-phone functionality makes it easy for me to operate the feature from my mobile if I need to go off-site temporarily."
" With MyCalls I can view detailed call activity of my team. We can use the statistics provided to reduce abandoned calls, and follow up any that we've missed."
" Its easier than ever to manage our system settings. Drag-and-drop functionality provides an error free way of building call groups, which is useful for when staff move desks, leave or join the company."
" I can use my handset at home to communicate with colleagues with the same ease as if I was in the office"
(IP version only)
" With Caller ID displayed on my handset, I can give the appropriate greeting to callers and redirect calls from familiar numbers without answering, straight to the relevant colleague.
The Busy Lamp Field buttons on my handset enable me to view the call status of each colleague, meaning that I can prevent wasting time trying to contact somebody who is busy on a call".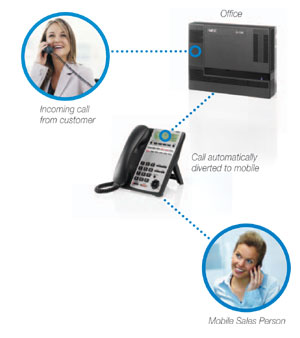 Stay connected on the move
Remain contactable on the same number wherever you are
Mobile Extension:
Be in when you're out
With a Mobile Extension, you can carry your office number with you when you're on the road. With access to system features such as caller ID, call transfer and voicemail, it really is like being in the office, whether you're travelling, on leave or stuck in traffic.
Get more out of your team
Company specialists can now be empowered to maintain high service standards when out of the office, helping you make the most of your most valuable members of staff.
Never miss a sales call
Salespeople can use Mobile Extension to ensure that even when they're on the road, they never miss out on a call which could lead to a lucrative business opportunity
Wireless DECT:
Maintain service levels when away from your desk with DECT handsets for wireless voice communications, you can move around the office and remain reachable, so you don't lose touch with colleagues or customers.
For more information please complete the following web form and we will contact you