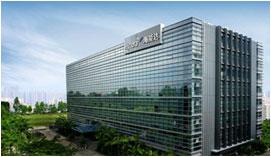 Hytera Communications Co. Ltd.,
Hytera Communications Co., Ltd., founded in 1993, is the largest professional mobile radio equipment and solution provider of China. Dedicated to developing, manufacturing and marketing of PMR products from analog to digital, from conventional to trunking, from portable & mobile terminal to system equipment, Hytera offers complete communication solutions to governments, public security, utility, transportation, enterprise & business for higher efficiency of organizational operation, task dispatching and critical missions.

To deliver solutions always at the frontline of technology advancement, Hytera annually invests over 10% of sales revenue into R&D. Over 700 engineers, based in two major R&D centers in Shenzhen and Harbin, China, keep transforming advanced technologies into innovative products, and have filed over 170 patents. Hytera is the key contributor to several major national standards and associations, including the Chinese Police Digital Trunking Standard (PDT) and Digital Radio Association (DRA), and is also an active member of ETSI, TETRA, DMR and dPMR MoU. Embracing the digital era of the industry, Hytera has launched product series compliant to TETRA, DMR and PDT standards, and is devoted to play a more important role in the future of digital communications worldwide.

After more than ten years, Hytera has established a global sales and service network with 20 offices in China, two subsidiaries in the UK and U.S., and over 20 sales representative offices in regions including Europe, Middle East, Africa, Asia-Pacific and C.I.S. Hytera works closely with more than 400 dealers to serve customers across the world. In over 80 countries Hytera products and solutions have been deployed.

Quality and innovation are what wins customers for Hytera, who takes the largest market share of Chinese police trunking system, and delivers over 6,000 trunking channels and 300,000 trunking terminals in total to over ten provincial police administrations; HYT, a Hytera brand, has lead the Chinese commercial market for 16 years consecutively, and has become the third largest global provider of analogue radios?; SEG Communications?, the leading provider of urban transit communications system in China, offers solutions to the metros of Hong Kong, Guangzhou, Shenzhen, Wuhan, etc.

It is Hytera's vision to be the most valuable provider of professional communication equipment and service by bringing our customers unlimited communication.